---
Beth Vanderhoeden

Beth was born in the parlour of her family home on the edge of the town of Owen Sound. Her family had gardens and fruit trees. She attended London Normal School in 1948-49. Her aunt lived in London so she had a place to stay when she arrived. Normal School seemed easy after grade thirteen.
Her first teaching job was in a three room school in Tobermory. She taught grades one, two and three. Tobermory in those days gave credence to the expression "there is nothing to do."
Beth says "there was nothing to do" except for house parties with kegs of beer. The school had no phone so Beth had to go to the home of the telephone operator to answer the call for a teacher in Timmins. All calls went through Lions Head. When the job offer came in at $2000 a year the phone operator listening in said, "Get me a job, too!"
In Timmins Beth taught grade one for three years. After the war Timmins had many displaced persons who did not speak English. Beth had no experience with English as a Second Language but she loved teaching the children to speak and to read English. She used pictures, phonetics and extra time at recess to allow the children to catch up to their age mates.
After Timmins Beth moved to Sarnia where she had a friend from Owen Sound. Beth taught at Meadowlea in Sarnia (later Gord Swan's audio visual centre, then ABC nursery and now supportive housing), spent twelve years at Woodland (now a church) and then at Cathcart for twelve years. She took some time off when she and her husband Hans, from Holland, had five children. Once she was back at work, Hans cooked and looked after the children in the evenings while Beth studied for four years for a degree in psychology. She had to do well as an example to five little kids who were interested in her marks. Then she worked on specialist qualifications in art, physical education, math and science along with developing novel studies lessons. Later she explored her passion for art by attending Buckhorn Art School with a wonderful teacher Edwin Mathews, painting in Newfoundland, taking classes with such artists as Jack Reid and Ariel Lyons and becoming good friends with local artist Kathy Rath.
Travel also called to Beth. She and her husband took bike tours. Their travels included Ireland, Holland, France, Bulgaria, France and Austria. At March Breaks they would go on cruises or island holidays. She visited the Galapagos and Scotland with her mother and her sister. After retirement she and her sister-in-law took a small ice breaker trip to Antarctica.
Her children have lived across Canada so she has seen much of the country visiting them.
Hans lived through the occupation of Holland. He said his life's goal was to raise good citizens. Beth feels they accomplished this. They raised three children to be high school teachers, one a government worker, and another a forester in Cape Breton.
She feels fortunate to have a grandson, his wife and two dogs living with her during the pandemic. She says, "I enjoy life. I walk and I belong to two books club (well, before the pandemic) and I read all the time."
---

Marian E. Douey celebrated 100th Birthday
Marian Douey grew up in a farm family with six children in the Watford area. She had three brothers and two sisters. Her maiden name was KIDD. She and her sister, Dorothy, were referred to as the "LITTLE KIDDS."

The older KIDDS with secrets would say, "Don't tell the LITTLE KIDDS!"

Her grandmother lived in Watford so the KIDD kids would visit her while the parents went shopping on Saturday nights. All the KIDD kids were fortunate to stay with their grandmother while they attended high school because school buses were not available at that time.

She started her teaching career in the country. For two years she taught in Fairbanks School near Alvinston and for one year at Henderson School near Petrolia. She remembers the days when married women didn't teach.

She and her husband farmed for a short time before moving to Windsor. He was transferred to Sarnia by National Grocers. Marian's mother-in-law suggested Marian submit her name for supply teaching. At the time Marian and her family were staying with her in-laws while her father-in-law was building a home for them on Cameron Street. One year, Marian's brother, Victor, the principal of Queen Elizabeth School called her to work on the second day of school. A newly hired teacher never arrived and Marian taught at Queen Elizabeth until the end of June. Her final supply call came to teach at Parkview and she stayed twenty-two years. Her first principal was Morley McGregor. Another one was Howard Coleman who had been Colonel Coleman in the army.

Marian and her husband raised three children. Now she has five grandchildren including nineteen year old twins. Her great grandchildren, aged twelve, ten and eight, each wrote a lovely letter to her in celebration of her 100th years. A granddaughter prepared a video of Marian's 100 years. Her two year old great grandson loved Marian's birthday balloons. He has a great sense of where to find the biscuits at Marian's and he does not forget! He has a new baby brother who is 100 years and a few days younger than Marian! She is grateful to her family for their support and assistance.

Marian reads the London Free Press everyday and does the puzzles. She also enjoys jig saws. These seem to be common COVID activities this year.

RTO celebrated Marian Douey 100th birthday by delivering flowers, balloons and "a party in a bag." Also delivered to Marian was her RTO birthday certificate prepared by Kathy (Doan) Bandla. Marian taught at Parkview when the five lovely Doan sisters attended that school.
For her 90th birthday Marian was feted at Patterson Presbyterian. This time during COVID19 the party was much smaller however RTO sends "big" birthday wishes for Marian's special year!
---
Sara (Sally) Townsend
Sally grew up in Sarnia until high school, when she moved to the river at Courtright. She was named "Sara" after her grandmother. When she was in Grade Seven children teased her about her old fashioned name so she changed it to "Sally." Now only her elementary school friend calls her "Sara." All her teaching colleagues remember "Sally." What fun for pupils of the fifties era "Dick, Jane and Baby Sally" preprimers to know a teacher named "Sally." She began her teaching career withthe Moore Township Board. Unlike today's young teachers she was asked "what do you want to teach" and "where do you want to teach." She had many, many choices. The board was very good to its teachers. They were given anything and everything that they requested. Her first teaching assignment was in kindergarten at Courtright. At the time Moore did not have a special education program. She was asked to go to Colborne Street School in Corunna to set up that program. After two years she began teaching Remedial Reading in five schools including Lochiel, Lansdowne and Queen Elizabeth in Sarnia. Her last years before retirement were spent in the primary grades at Murray Street School in Corunna. Because she still lives in Corunna, Sally often meets her old (as in former) kids (as in students), and their parents. The cleaner and paper person in her building are former Grade Two and Three students. Reconnecting brings back great memories as Sally loved teaching and spent lots of extra hours on the job.
Sally has four children, two retired teachers and two Polysar employees. She has six grandchildren with four being teachers. Some family members even married teachers. She also has eight great grandchildren.
Her advice is, "Stick to it, don't ever give up." She feels young teachers today have more challenges than she had. Sally likes to keep busy. She enjoys reading, knitting and doing puzzles. These have all been good pandemic activities along with her quilting.
Best wishes to Sally and to all members of District 38 as birthdays are celebrated in new ways, during the unusual years of 2020 and 2021.
Hopefully, as Sally has done, everyone has found entertaining ways to enjoy these unique times.
---
Eleanor Vargo
The COVID19 pandemic will always be remembered and so will Eleanor's special birthday! Eleanor was one of the first people feted with a drive by birthday
parade in March 2020. Her celebration made the CBC News!
Some years earlier Eleanor was born in Clinton, Ontario to Sidney and Evelyn Thompson. She has been involved in music since she began taking piano lessons at the age of eight. She also sang in her church choir and played duets with the choir organist. She was a regular pianist for Sunday School. She sang in ensembles and choirs during her school years. During high school years she played the piano in orchestras when school work allowed.
After attending London Normal School she was hired in Windsor to teach in a rotary system where she taught music to grades two to eight at David Maxwell School. After Eleanor and Harold married she moved to the Sarnia area. She taught in a rural school called SS10 for three years because of the city's policy of not hiring married teachers. Yes, there was a time when that was so! These were also the days circa 1956 when lady teachers wore heels and suits.
She then taught for three years in a grade one class in Point Edward where she lived. When Sarnia's policy regarding married women changed, Eleanor moved to Queen Elizabeth School where she taught grade two for eleven years. Then she worked in school libraries, opening some. These schools included Woodland, Clarke, George Perry and Lakeroad. Prior to her retirement 1986, Eleanor had special assignments at the board office. These assignments were in moral values, music and staff development. Eleanor tells the story of being impressed with the kindness and moral values of teenagers. She was on a bus when one boy in a group of teenagers offered her a seat. She thanked him. His reply was, "Don't thank me, I lost!"
A lifetime commitment to music found Eleanor teaching music in classrooms, singing in and directing choirs including the Jeanettes, Rainbow Singers and Georgian Singers, and serving as church organist and choir director at several Sarnia churches. In retirement she continued her involvement with the Lambton County Music Festival. She was in charge of obtaining adjudicators for the Festival each year.
Eleanor has her Bachelor of Arts from Western, her Masters of Education from Wayne State and from The Ontario Department of Education, the School Music Instructor course. Some of Lambton teachers recall her being their instructor for a Vocal Music class sponsored by the Department of Education.
Eleanor is enjoying her retirement. Her advice to new retirees is to enjoy retirement, to volunteer, and to stay active with friends. Choirs, supply work for church organists, bridge, ballroom dancing, flower gardening, much travelling especially numerous cruises, needlework, curling, hosting a German exchange student and her feline companions are among her pursuits. She is a member of both RWTO and RTO, has been on the Mayor's Honour List and is a Paul Harris Rotary Fellow.
Eleanor is following her own advice!
---
Donna McQuillin

Donna McQuillin was born in Kincardine and was raised with her one brother. Their parents both worked in Malcolms Factory which made the famous mosquito bomber airplanes. Her father worked in the lumber yard at Malcolms. Her mom worked at the factory during the war. Donna attended public school in Millarton, a tiny place about two miles outside of Kincardine on Highway 9. She attended high school in Kincardine.
In 1950, teachers were scarce so immediately after high school she began teaching in a one room school. She went to teachers colleger in Toronto for two summers to become qualified. Donna always wanted to be a teacher. Even as a small child at home she would go upstairs alone and "teach" her classes.
One of her stories happened while teaching in a brand new school in Bruce county. The school inspector paid a visit to check out the new school. It was winter. He had his coat on and was ready to leave but asked, "Where is my hat?" Donna was saved from telling him when he realized his hat was in his hand!
Donna taught in four schools in Bruce County before moving to Sarnia in 1953. By then she had married her truck driver husband. He wanted a change from Ripley to either Toronto or Sarnia. Although Donna thought that nobody goes to either place, they moved to Sarnia. They had two children, a girl and a boy.
In Sarnia, Donna taught for eight years at Queen Elizabeth, two years at Lakeroad and at Hannna at the end of her teaching career. After teaching she managed a wine store in Lambton Mall for about seven years. Donna says, "Retirement is a good job to have and I have enjoyed it all!"
She feels fortunate to have her daughter and and her two grown children in London. Donna enjoys living in her apartment near Centennial Park and driving her car for shopping and errands.
RTO sends greetings for Donna's special birthday!

---
J. Gordon (Gord) Farrlow
Gord was born in Guelph but actually raised in Milton when it had a population of 1800 compared to today's population of 80,000. His home was near Rattlesnake Point. Although he was raised on a farm his father often worked "out." He had a painting business.
Gord attended high school in Milton and normal school in Hamilton. He took winter and summer courses from Western to complete his degree. He began his teaching career in a one room school in the Simcoe area before accepting a position in a rural one room school called Kertch in the Wyoming area where the Farlows lived. After two years there, Gord moved on to Goderich for a two year teaching stint. In this era, pages and pages of teaching jobs were advertised in the Globe and Mail. Next came jobs with the Sarnia Board. After being appointed principal, Gord worked in three schools, Brooke Central, Petrolia Queen Elizabeth and Errol Village. Brooke was unique in that public and Catholic students both attended the same school. In Petrolia Doug Dew, another RTO member, worked as vice principal with Gord. He retired after thirty-five years in the profession.
Gord and his wife Bella have two sons, a retired policeman and a retired fireman. The policeman has a son who is a policeman and the fireman has a son who is a fireman. The Farlows feel lucky to have both their sons living in the city. One granddaughter has followed in her grandfather's footsteps. She teaches high school in Forest.
Gord and Bella say that a successful retirement involves "keeping busy." Gord enjoyed gardening. In earlier retirement he played a lot of golf.
He says "travel if possible." They travelled from coast to coast. Gord drove the Alaska Highway twice and has the certificates. He found the drive easy. They stopped at restaurants along the way and talked to people, all nice. They saw all kinds of animals along the way. Even their dog had two great road trips. They recall the special sites like the west coast, the Qu'Appelle Valley, the Bay of Fundy and in Cape Breton, Rita McNeil's Tea Room.
Sarnia and their home suit Farlows well. Sarnia is just the right size. Their front porch is a great spot for meeting neighbours both canine and human. Many stop by for a visit. They enjoy their daily trips to Tim Hortons where they read their newspaper. Gord has always enjoyed reading especially nonfiction.
They have four grandsons and two granddaughters. They have four great grandsons and two great granddaughters as well as a grand cat "Charlie!"
The Farlow family celebrated with a special birthday party for Gord. RTO joins with the family in wishing Gord all the best.
---
WILF SPIVEY
Wilfred Spivey was born and raised with two brothers on a farm near Brussels, Ontario. He attended high school in Brussels about fifteen miles from the farm. He walked or skied into town on Monday mornings and then back home on Fridays after school. During the week he stayed with his great aunt. He was fortunate on the Mondays when his father was taking grain into Brussels to be chopped at the mill and when he was picking up the chopped grain on Fridays. Then Wilfred had a ride home with his dad and the team of horses.
In 1949 after grade thirteen Wilfred attended Stratford Normal School. His class continues to meet in a Stratford restaurant for an anniversary dinner every May. After one year of Normal School Wilfred began his teaching career in a rural one room school in Morris township with twenty two pupil in grades one to eight. He also taught in Ashfield township.
His starting salary was $1400 per year. By 1954 when Wilfred and his wife, Georgina, moved south to Point Edward his salary increased to $2800. He taught at Edward Street School, located near the current Point Edward fire hall, then at the new Bridgeview for twenty years when five hundred children attended.
Local people may remember Georgina from her long career in the restaurant business at Gateway Steakhouse and the Chipican. She worked mostly nights so she and Wilfred passed each other at the front door as she left for work when he returned from school. Except for the evenings when he went to night school in Windsor they did not need a babysitter. During the school year Wilfred commuted to Windsor with a group of Sarnia teachers for night school classes then took two courses every summer while staying in Windsor. Thus he earned his degree.
For most of his career in Lambton, Wilfred was a vice principal but always worked in classrooms and enjoys being remembered by former students. His thirty-four years of teaching included four years at Lansdowne and four at Murray Street in Corunna, from which he retired as vice principal.
The Spiveys continue to enjoy their home and recently celebrated with thirty four family members there. They are fortunate that three of their four children live in Point Edward and Sarnia as do some of their nine grandchildren and twelve great grandchildren. Others live in the Kitchener Waterloo area. One daughter is like her father, a retired teacher. She finished her career as principal in Wyoming. He also has a grandson who is a supply teacher with the Lambton Kent Board.
If the weather is reasonable Wilfred walks from Point Edward to the main gates of Canatara Park. He recommends staying active even if it means walking inside the house in poor weather and gardening in fine weather. He has easy access to the trails which are former railway tracks in Point Edward.
Wilfred retired after thirty four years of teaching. He retired on a Friday and on Sunday his former principal Don Williams encouraged him to sign on as a starter at Huron Oaks Golf Club. That lead to about sixteen summers on the course.
Best wishes, Wilfred! KEEP ON WALKING! The Spiveys say keep active. That is surely working for them!
---
Helen Cassidy
Helen was born and raised in the mining town, owned by Inco, called Copper Cliff. It is now part of Sudbury. Helen was one of eleven children in a French Canadian family. Her parents spoke French and so did she until she went to elementary school. Although Sudbury at the time was populated by forty percent French, Copper Cliff was predominantly English speaking, so she and her siblings thought speaking French was not cool. She attended high school in Copper Cliff. In 1947 she left home to attend the University of Toronto. She took a general arts degree at the time called Pass Arts. This course was intended to provide a well rounded education with a smattering of many different disciplines. She then attended teachers' college at OCE and was ready to teach French and Physical Education in Sudbury. While she was teaching there, Clem Cassidy came on staff. Clem had taught in Sarnia and wanted to return. The draw for him was the Polysar Glee Club. They married in 1954 and came to Sarnia when Northern Collegiate was opening. Clem taught vocal music and English at Northern and was director of the Polysar Glee Club for some years.

Helen taught at Petrolia High School before giving birth to three daughters. In those days mothers resigned from the labour force and stayed at home with their babies. When their youngest daughter was in grade seven or eight, Helen went back to work as a supply teacher. Returning to teaching was eye opening. Previously, students raised their hands to answer a question and when one was recognized by the teacher, that student would stand up and answer the question. The classroom was a formal place. When Helen returned to teaching, discussions were open, no subject was private and language was colourful. In addition to supply work she continued to utilize her teaching skills by teaching night school at SCITS twice a week. She taught gym classes (Slim and Trim) and volleyball for many years. The facilities at SCITS allowed the adults to use the swimming pool, too. Helen was also involved with Girl Guides at Sacred Heart Church.

Today, Helen plays bridge and more bridge. She enjoys duplicate bridge at the Sardo Club, formerly St. Peter's Church. She feels blessed to be able to attend numerous community activities including the programs at the Art Gallery, films with CineSarnia and Live at the Met opera at the local theatre. Recently she celebrated her birthday in Toronto with her three daughters, nine grandchildren, partners and one little great grandson who now has a new baby sister. Two of Helen's daughters are engineers and one followed her parents into teaching.

Best Wishes, Helen!
---
Fran Lewis

Fran is a life long Sarnian. She was born and raised here with three older sisters and a younger brother. Her sister June Bannister is also an RTO member. Fran attended a number of elementary schools including Confederation Street and Wellington Street. She then attended SCITS for high school where she later taught for her entire career.

After finishing high school Fran worked at Polymer in the gas lab for a year in order to save money to attend university at Western. Then she was back at SCITS to teach English and French.

Fran embraces her family of a son who lives in British Columbia , a daughter and a son in law who live north of Toronto as well as their two lovely daughters.
---
Vera Johnston
Vera Johnston has been a Lambton County girl from the beginning. She was born on a farm on the 8th Line of Moore (now Rokeby Line) and Brigden Road. She grew up with a brother who later farmed and was also a bulk carrier truck driver.
After Grade Thirteen in 1949 Vera was in the last class attending London Normal School. After that a new Teachers' College was built. One year at Normal School qualified Vera to teach up to Grade Ten. Her friend Shirley (Shaw) Johnson, also an Lambton girl, was at Normal School with Vera. Both girls were hired the same weekend to teach near Highway 21 (now Oil Heritage Road) near Wyoming. Vera's school was on the townline of Plymton and Enniskillen and was identified as SS 2 and 24 Plymton and Enniskillen (later Sunbeam School.) Vera married a Lambton farmer whose farm was near the school. She and her husband raised three children, a son and two daughters. While her children were young she did some supply teaching in rural schools. In 1959 teachers were difficult to find. Vera was asked to teach at Kertch school on London Road, a one room school with thirty to thirty-five students. With a one year old at home Vera did not think she could do that but a school board member convinced her to supply teach for a month while his wife babysat! For two years she covered maternity leaves at Oban School on London Road West. For three years she was principal's relief for three half days a week. Then she taught Grades Five and Six for ten years in Wyoming.
In 1979 the Johnstons bought a place in Zephr Hills, Florida. They actually bought the land their winter home would sit on. Buying a home where he did not own the land did not sit well with a farmer! Vera enjoyed the snowbird lifestyle for fifteen years. In Wyoming she lived for a number of years in the Royaleigh apartments and moved to a Petrolia retirement home this past year. Still a Lambton girl, on the day of the RTO Goodwill visit, Vera was driving some of her fellow residents around the area to see the local changes.
Vera has six granddaughters and one grandson with two teachers among them.
---
---
BILL DANYLCHUK
William (Bill) Danylchuk grew up in Toronto. He fondly recalls playing baseball at Christie Pits and football for the University of Toronto Blues First Team in 1948. A highlight was being named All Star half back in 1949. When he and Betty, now his wife, were in grade thirteen they began having dinner and going to a movie every Friday night. They have continued to do that for more than seventy years.
Bill began his work life at the age of nine. As a youngster he had many jobs including delivery boy for a drugstore. During the war he worked in a factory that made Lancaster bombers.
Upon graduation from university Bill was hired by the Sarnia Board of Education to teach at SCITS but he had a summer job teaching and caring for a child with cerebral palsy. This was a dream job with a wealthy family in Costa Rica. The father sent Bill to New York for a week to meet with the boy's doctors. Then Bill proceeded to Costa Rica where the boy attended school during the day. Bill had freedom then to enjoy the outdoors, golf and play tennis with folks from the Embassy. Bill and Betty had planned to marry. The employer convinced them to marry in Costa Rica. Bill arranged for wedding attendants, a church and flowers while the employer provided a reception. Betty travel alone from Toronto and stayed in hotels along the way. Planes did not travel such long distances in those days so overnights stays were necessary. After a stressful, exhausting trip via New York, Miami, Havana, and San Jose, Betty was marrying...within an hour of landing. The employer wanted the Danylchuks to stay on in September but teachers were in such high demand that Sarnia would not release Bill from his contract. Bette and Bill decided to come to Sarnia and stay until the new year when Bill could legally resign without spoiling his reputation in case he ever wished to return to Canada. However, by Christmas the Danylchuks were enjoying Sarnia. They liked its location by the water. They had spent many happy hours at the beach and dancing at Sunnyside when they lived in Toronto; so Sarnia, a Great Lakes city felt like home. Bill taught geography at SCITS and had began coaching. In addition to coaching the SCITS football team, Bill was the assistant coach of the Sarnia Imperials that famous footnote in Sarnia history. Later Bill was a physical education teacher and then department head at Northern Collegiate. At the time the physical education teachers were expected to coach almost everything. Bill coached championship teams in basketball, football, volleyball and track while at SCITS and Northern. The Danylchuks never returned to Costa Rica until years later when they visited on a holiday.
Bill retired as a vice principal at LCCVI. He continued to return there for a number of years after retirement to serve as the starter with the pistol at Petrolia's annual track meets. He has spent many hours on the golf course and he and Betty are world travellers. To celebrate his birthday this year Bill, Betty and their two daughters have travelled to Calgary, Banff and Jasper areas. Here is hoping Bill does not talk Betty into tenting this year. Years ago, their first and last tenting experience involved Betty's encounter with a moose!
The Danylchuk family enjoyed years as Riding Club members. Their girls took tennis and swimming lessons and always had summer jobs. Bill and Betty have travelled to eighty countries and islands...sometimes with their daughters.
Bill says, "The world is a book. If you haven't travelled, you've only read a page."
---
Maria (Chris) Wolff

Chris Wolff was born and raised in the Dutch East Indies, a Dutch colony, now known as The Republic of Indonesia. After World War II and after Indonesia's independence in 1948 all nonnative people had to repatriate to their countries of origin. Chris and her mother went to her mother's country of birth, The Netherlands. There, Chris trained as a secretary and worked as such until she left for Canada. She first went to Mount Clements, Michigan, where she had relatives.

Her husband-to-be had left the Netherlands earlier and had secured a job with the Ontario Research Foundation. He was stationed in Sarnia. They married in 1957 and had two boys. About ten or twelve years later the government offered re-education to individuals interested in becoming French teachers. Chris decided to give the program a try after taking grade thirteen at Northern Collegiate. The boys were responsible and fairly independent by this time. After receiving her diploma in teaching Chris worked for the Lambton County Roman Catholic School Board. She began her career as an itinerant French teacher in various locations such as St. Benedict, St. Joseph, St. Margaret and St. Peter schools.
Later, when the number of classes warranted a full time teacher she became part of the permanent staff at St Helen School for twelve years. Her last school was Gregory A. Hogan from where she retired in 1987.

Chris' two sons became engineers. One works for Hydro at the Bruce Generating Station and and other works in the United States for MFF (Manufacturer of Flavors and Fragrances

---
Emily Gaborko
Emily Gaborko was born at her Lambton County home in the Inwood area. Her family lived on a farm on 27 Sideroad near the 6th Line. As a child she attended Shiloh School and Shiloh United Church.
Emily attended Petrolia High School in an era when no school bus serviced the area until her last year of high school. Most kids did not attend high school. The parents of four or five students hired a taxi to take them to high school. That last year of high school when an old bus began picking up students in the Shiloh area, Emily recalls that the bus was known to stall and the kids would jump out and push it.
After high school Emily attended Toronto Teachers College. Through the years she took some University of Windsor courses and also took her primary specialist. Her practice teaching supervisor was Jean Swan who in later years was an RTO member. Emily's first school was Weidman school where Jean had also taught. Another of Emily's rural schools was SS 17 Enniskillen. Emily recalls some of her principals; Brian Boucher, Bob Hext and Mark Gorth. Besides rural schools she taught at St. Philips, Centennial, Queen Elizabeth Petrolia and South Plympton. She even taught adults in Petrolia's Fairbank House. Most were trying to complete their grade eight perhaps for improved job opportunities. This teaching assignment was rewarding because for the most part students were interested in learning except for the challenging days when some of the men had been "out the night before!" When she retired she had taught for twenty-seven years.
Emily has spent countless hours doing church work including seasonal decorating, making turkey pies, recruiting kitchen volunteers, ushering and teaching Sunday School.
Her advice is, "Make sure you have grandchildren . They keep you young." Baking, studying math, playing games and visiting are fun with grandchildren. She has three daughters and four grandchildren

---
Frances McLean
Fran was born in Blenheim. She grew up in a family of two girls and three boys. Her father was a local merchant. Her childhood included many happy summers at the family cottage on the main street into Erieau.
Fran received her BA from Western and her MA from Windsor. She describes teacher education at the time as creating "eight week wonders." Young teachers would attend summer school for two summers unlike today when they study for two years following their undergraduate degrees.
Fran's first year of teaching job was at the Ontario Ladies College, in Whitby. She went there directly after graduating with the BA from Western. Teacher training was not required in that private school. Teachers lived in the same hall as the students and were required to chaperone the girls wherever they wished to go, which could be to church or to the movies. Classes were small with as few as six students in a math class. Fran's largest class size was thirteen. She taught grade twelve and thirteen and was glad that all her students were able to pass the provincial departmental examinations.
Whitby was followed by teaching science and chemistry for two years in Windsor and four years in Glencoe. In 1965 Fran moved to Sarnia where she taught math for eleven years at Central. In 1976 she was assigned to the Lambton board office where she worked as Stan Pate's assistant for three years. After that she was happy to be back in the schools where she spent three years in each of three schools. She was a vice principal at Northern and at St. Clair then ended her career in 1988 as principal at Watford. She jokes that one should retire early enough to "get all the money out of the pension" that one puts in.
Fran's is proud of her two daughters who both have PhDs. She teases that she told them she wanted two doctors but was thinking of another kind. One daughter lives in Ottawa and has a consulting business. She graduated in psychology. The other daughter lives in Connecticut. She is a professor at a university there. Fran also has two grandsons, two great granddaughters and one great grandson.
In the early days of her retirement Fran had many opportunities to travel. Those travels included Venezuela, New Zealand, Norway and Spain. She travelled often to a Spanish villa and spent parts of five winters there.
Today, she has a beautiful suite that overlooks the St. Clair River.
Best Wishes, Fran!
---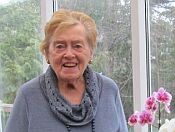 ELISABETH BAKKER
Elisabeth was born in Gorrsel, Holland. By the time her father was in his late twenties he had saved enough to build a home. Mortgages were not used at that time. The two storey house still stands today in this lovely community which Elisabeth had an opportunity to visit in later years. When she was a toddler her father moved his business to Zuphen. Although electrical and plumbing were part of the business, the focus was central heating which most homes did not have at the time. Elisabeth's mother was a homemaker and later Elisabeth, too, was a homemaker as was the custom.
During summer holidays, when Elisabeth was a child her family rented an apartment in Scheveningen, a resort town, near The Hague. She along with her sister and her mother spent vacations there, with the father joining them on weekends. The girls spent wonderful days playing in the North Sea. Years later Elisabeth's grandchildren found the Sea salty and that hurt their eyes!
Elisabeth loved every moment of school. Hers was a marvellous private school. Her schooling at the time included six years of public school and five years of high school, the first three years of which lead to a diploma. In the fourth and fifth year students chose business or science or gymnasium (philosophy, Latin and Greek). Elisabeth chose science. This school prepared students for post secondary education. At seventeen just before completing high school her education came to an end as the fighting of World War II was all around their home. Behind the house was the family garden, then a meadow and then a railroad where the Germans stored their munitions. In front of the house were truck loads of pigs to feed the German troops. Elizabeth's father had his two daughters sit on "look out" in their big bay window and watch for German soldiers while he listened to news from England on the radio. Eventually, the English "shot up" the Germans munitions so the family had to leave their home. The windows of the house were blown out and the curtains ended up in trees. However, the family was always prepared and
had their suitcases behind the door. They were able to leave and rent a cottage. Although that was the "last of school" all the students were given their diplomas.
Meanwhile John, Elisabeth's future husband, was in the army. He had his uniform and kit bag, and was ready to leave in the morning when the announcement came on the radio for Dutch soldiers "not to report for duty." That was May 10, 1940. All the bridges over the three biggest rivers had been blown up. Holland was then occupied until May 5, 1945 when it was liberated by the Canadians.
After the War Elisabeth's mother was concerned about the Cold War and encouraged her family to move to Canada which lead Elisabeth and John to Ontario. John, by then a teacher, was hired for a teaching job in Englehart, 250 miles north of North Bay. That was followed by four years in Belleville before Inspector Johnston encouraged John to come to
Sarnia where the family settled and Elisabeth still lives.
Life has changed since Elisabeth grew up in Holland and since her years in Northern Ontario. Drug use and discrimination were not issues in those days.
Elisabeth and John raised their three children. One daughter is a retired family studies teacher while another daughter and their son are both doctors. Elisabeth and John had return trips to Holland with their
children and grandchildren. They had opportunities to learn to love the Netherlands and the Dutch traditions such as hanging out a flag when there is a birthday in the house or setting out a stork when there is a birth. Elisabeth has seven grandchildren and five little great babies. Her iPad helps her to keep in regular contact with them.
For many years Elisabeth was an IODE member. Now in addition to visiting family, Elisabeth has some locals haunts to recommend. Try the Dutch Shop for traditional treats, Dashwood's Turkey Store and Grand Bend's Aunt Gussie's. Elizabeth, also, has a showy collection of orchids.
---
JOAN HINCH
Everyone has a story and Joan's begins in Battle Creek, Michigan on Wren Street where she was born. Joan has relatives on both sides of the border after some of her family came to Canada with the United Empire Loyalists. When her parents married they moved to Michigan and had a store. Joan came to Canada with her family when she was about eight.
She attended school in London, Ontario and became a laboratory technician. When she married she came to Sarnia to work in a laboratory in the chemical valley. Later Joan who has dual citizenship worked at Mueller Brass in Port Huron for ten years. She then went to teacher's college in London and had a twenty six year teaching career. She began at Blackwell School, followed by Hanna and then a two year stint as a Special Assignment Teacher with Doug Barber at the board office. She
returned to classroom teaching and was assigned to Bridgeview in Point Edward. There she enjoyed team teaching with Barb Moore. They had such fun and activity that their classrooms often included the hall. Joan say she had good, supportive principals who were not upset by the learning that spilled into the corridor. She has wonderful stories about pet fish in the classroom. These tales are secrets, not for publication!
Joan's story in education does not end with retirement! She was not ready to give up teaching so she continued at Bridgeview as a volunteer. Some time later when Barb retired the two of them taught in China for two years with visits to Malaysia, Thailand and Singapore. In the summer holidays they took the slow train from Beijing and Moscow then backpacked through Europe.Then there was Australia and New Zealand.
Joan met backpackers and says, "You have to trust! You can't be scared." She teases that RTO member Fred Moss, who often led travel excursions, would not allow her on his trips because he could not be responsible for someone as adventurous as Joan.
Joan's teaching career still had more steam! Another of Joan's adventures was helping to build a school in Africa then staying on to do more teaching. She moved in with the nuns who ran the school.
Travel continued to be on Joan's agenda when she had a lovely trip to Cancun with seven members of four generations of her family. This trip could be nothing but a blast with nine year old twin boys!
Joan has two daughters, one son, six grandchildren and eight great grandchildren so when she hosts family and spouses there is a big group in her basement. She could not have been prouder then when her great grandson was selected as class valedictorian at Northern Collegiate.
Joan was involved with interviews for the provincial RWTO book based on stories of teachers who taught in the nineteen thirties. Now, we also have Joan's story who taught from the sixties to the nineties.
---
---
ERLEINE STEPHENS
After teaching in Windsor, Erleine worked at CPRI in London, before coming to Lambton as principal of New Hope. She and St. Clair principal, Phil Brown, coordinated the move of New Hope students to the high school. Then until retirement Erleine was principal at Aberarder. Â
Erleine and her husband spent many winter holidays in New Symatra, Florida. About twenty-four years ago a group of Ontario teachers purchased the condo-hotel, Ocean Trillium, in the sunny south.

Best Wishes!
---
We celebrate with Elsie Robbins!
Elsie grew up in St. Thomas and Tillsonburg then attended nursing school at Memorial Hospital in St. Thomas. She married her husband, Bill, a World War II veteran and they raised six children. After running his electrical business in St. Thomas Bill decided to try teaching instead of trying to collect bills! He enjoyed teaching electricity at Lowe in Windsor, then when that program ended he taught elsewhere in Windsor for a year before retirement to a Watford acreage.
Elsie did a little part time nursing but was very busy at home with the children. The family was involved in church in Windsor. She continues her church associations since her move back to St. Thomas.
Elsie and Bill were square dancers and now Elsie is a clogger. She is involved with the St. Thomas Seniors Centre and exercises there three times a week. Her special birthday was hosted by her family and held at the centre.
Best Wishes!!
---
Marion Mummery Celebrates 100th Birthday
At the age of 100 years and two days, Marion joined a daughter and son-in-law in a new adventure in their new home in the Lighthouse Cove area by Lake St. Clair. In recent years Marion has lived at London's Masonville Manor near another daughter and her family.
Marion was born in Dresden and part way through Grade Nine moved to Ridgetown.
Later as newly weds during World War II, Marion and her husband Bob worked in ammunitions factories in Montreal. Then they had their family of two daughters and two sons.
Marion says, " I had two children in the 1940s and later two in the 1950s. I knew little of raising children and followed Dr. Spock's book with good results for the first two children. The book was useless for raising children in the sixties!" By then Marion had abandoned Spock and still had equally good outcomes with her younger children. Marion has a great sense of humour! The attached birthday photos of Marion attest to that!
Bob had good factory jobs but hated them. Finally, a fellow member of a club in Chatham suggested teaching. Bob found his niche and enjoyed that career even though the pay was not as good as his factory work. His first teaching job was in a one room rural school called Maple Leaf
School in Tilbury East. In 1951 he earned $2000 a year with an extra $350 for janitor work. In 1954 he switched to Tilbury District High School. He often attended night school. He received his BA from Assumption (Windsor) which at that time was affiliated with Western University. From 1959 to 1965 he taught in his home town of Blenheim. Bob then moved to Wallaceburg (WDSS) high school. At that time the Mummerys made their home in Lambton, first in Port Lambton and in 1988 moved to Grand Bend. In 1982 Bob had retired after thirty-two years of teaching. He and Marion spent twenty winters in Florida.
Marion and Bob were active in political life. She continues her interest. She has seen many changes in 100 years, not all good, she says. Today she wonders about what is happening to unions. She appreciates all the support she has had from the teachers' groups.
Almost everywhere Marion has lived she has played bridge and enjoyed teaching bridge. She and Bob were also avid golfers until their nineties. They had golf memberships at Oakwood Golf Course for many years while living at Grand Cove Estates in Grand Bend.
Church has always played a big part in Marions's life since christening, Sunday School and youth group. She and Bob served as ushers and greeters at the Anglican church in Grand Bend, St. John's by the Lake.

RTO wishes Marion all the best as she enters her 101st year in the her new home!

---
WILMA LOVE
Wilma grew up on a one hundred acre farm in the Kirkton area, north of
St. Marys and London.. Wilma is the middle daughter of the three girls
of William and Margaret Gilfillan. Their father was proud that they all became teachers, all attended Western. The other sisters thought Wilma took the "easy" route. She had been ill in grade thirteen so never
completed high school. In 1944 when teachers were in demand, teachers could be trained in two six week summer courses. A school board paid for Wilma's first summer. She began her teaching career in the school just north of Huron Country Playhouse in Grand Bend, in Stephen township. Check to see if the old school pump is still there! She taught is the rural school for six years and boarded on the Playhouse property with
relatives of her husband, Mervyn.
After first year at Emmanuel College, Mervyn had joined the Air Force and was a staff pilot for gunner practice. After the war he returned to Parkhill to join his brother in a hardware and appliance store. Later he
returned to complete his education and became a United Church minister.
When the Loves married they moved to a northern settlement with the United Church. For three years they were north of Bruce Mines at Rydal Bank, an hour east of Sault Ste. Marie. Finally, they returned with the
church to southern Ontario. They spent thirteen years in Leamington and thirteen years in Wyoming. By then they had their two children, Allan and Carol. When Carol was in grade four, Wilma returned to work when
teachers were in short supply in Leamington. She taught English and mathematics in senior public school. When Wilma returned to work she decided that the family would use the extra money to travel. Their
travels included trips in Canada and to Hawaii, Europe and the British Isles. Wilma and Mervyn also visited Scandinavia.
Wisely, the family invested in property in the Grand Bend area and in Florida so they would have places to live in retirement. In those days United church ministers lived in church owned manses during their ministries.
Wilma remembers well the day the United Church on Wyoming's main street was burned. The family was awakened in the manse next door. The Loves stayed with the congregation through the loss of their church and to see the beautiful new church built in the north end of Wyoming.
While living in Wyoming Wilma taught special education at Lakeroad School for nine and a half years. She had not really planned to work in Sarnia but a teacher with a special education certificate was need at
Lakeroad. Later she moved to Bright's Grove School and taught Grade Three there for four years before retiring.
Just as with many other RTO members' families..."the apple doesn't fall far from the tree."
Wilma's daughter taught special education in Simcoe County and she, too, has the urge to travel. Her travels have included Florida trips and excursions to Mongolia, Nepal and India. Carol's husband is also a
retired teacher.
Wilma and Merv spent thirteen winters in Florida where they enjoyed ballroom dancing. She has spent another eight winter in their Florida home. Lawn bowling and artwork have also been enjoyable activities.
The Loves were active in protecting their part of the Lake Huron shoreline. They found that "gabians" have been a good solution. They also used plants and trees. Wilma has also stood up to prevent changes to one part of the shoreline that could cause erosion in another area on the lake.
---
GERMAINE LEPAGE
Germaine LePage came to Sarnia from Montreal to visit her older sister. At that time Germaine's husband, Richard (Dick), and a friend came to Sarnia for work. They were Northern Ontario.
Germaine came to Sarnia two weeks and stayed for three years. The French people in Sarnia socialized together so Germaine and Richard met then, although they did not marry for five years. World War II intervened. Richard was called to the army. When Richard returned from the front he learned the barbering trade. He operated a barber shop on Mitton Street for many years.
Germaine says, "We had to wait to marry until he could provide for me!"
When Germaine's children were in school and university, then Germaine attended St. Patrick High School, her children's school, for Grade 13. The LePages lived across the street from High Park School where Lawrence Crich was the principal. He knew of the need for French teachers. Germaine took two summers of teacher training in Toronto and when she was ready to teach she set out for the mass interviews in Toronto. Lambton County Board was represented and Germaine was told to go home and sign a contract. She did that and High Park became her home school. From there she travelled to about three schools and taught French to Grades Seven and Eight. Some of the schools she travelled to were Blackwell, Wawanosh, Lakeroad and Devine. In addition to Lawrence Crich; Dick Acton, Dwayne McKlinchey and Doug Farrar were some of the principals in school where she taught.
When French instruction was expanded to include Grades Three to Eight , Germaine and another teacher taught all the French at High Park which had a high enrollment at the time. Germaine was no longer itinerant!
Germaine complimented the good staff at High Park and the good staffs everywhere she taught during her seventeen year career. She "enjoyed the work, most of it!" She taught "kids who had nothing and kids who lacked for nothing. Kids were nice in both places." Children in her classrooms were well behaved.
Teaching an oral language full time is very challenging for the teachers' voices. She says the first course in training oral language teachers should be voice lessons to protect and preserve their vocal cords.
The LePage family trips used to involve travel to music festivals including ones to Toronto, Winnipeg and Vancouver. Dick and their sons are musicians. All of the LePage children are now retired teachers. Germaine and Dick are proud of them and their eight grandchildren.
Germaine enjoyed bridge at the Kinsman Centre and has done beautiful needlework that she has used creatively in decorating the home.
---
CERTIFICATE OF RECOGNITION FOR 95TH BIRTHDAY
Helen Mutton was born in Campbellford near Belleville. Her father was a Methodist minister so her family moved a few times during her childhood. She and her husband were married by their fathers who were both United Church ministers. The Methodist Church had become part of the United Church in 1925.
During her high school years Helen had attended a number of schools. She spent her final year at Alberta College, a United Church school in Belleville, which her mother had attended. There Helen had her first formal education in music. Her mother was a singer so previously Helen had learned some things from her.
In 1942 Helen graduated from Peterborough Normal School. She was hired at a county school outside of Peterborough to teach twenty pupils. There was a new a munitions plant in the area. She arrived at the school at the tender age of nineteen to met forty five children in eight grades. The oldest boy was sixteen.
After one year of teaching in the country Helen began teaching in Toronto's north end at John Fisher School. This move enabled her to take vocal training at the conservatory. This was wartime and she fell in love with and married an air force meteorologist. Because she was married she could no longer teach but had hoped to follow him. Her husband had only been in Toronto for a crash course in meteorology. While they were engaged he was in Charlottetown, PEI and in Gaspe. When they married he went to his next posting and the bride went home to her parents in Hastings. She did supply work. When he went to Ste. Hubert she did join him and while there Helen attended George Brown College in Montreal.
The day the war ended her husband was on the way to Toronto to try to get into university. He did study chemical engineering and because he had an arts degree he was able to graduate in three years instead of four. Thus he was in the job market a year ahead of the other veterans. He had four job offers from Toronto, Montreal and Sarnia where there were two openings. He chose Polysar.
While the couple were in Toronto the board tried to find work for Helen. She supervised a day care at Jesse Ketchum School. She supplied for teachers and secretaries. The business course at George Brown was useful. She spent at year as Hart House secretary. Then in 1947 Toronto allowed married women to teach just when Helen learned that the Sarnia board did not accept married women. By 1953 there was a desperate need for teachers and Helen was hired to teach forty five grade ones. In 1955 married women were formally accepted as teachers. By 1956 Helen had three children herself. In the early 1960s Helen did a lot of supply work while a friend kept Helen's youngest child . After two long term supply contracts at High Park, Helen served as principals relief at Woodland for fourteen years. There she taught senior grades and lead trios and choirs.
After a year off she returned to Woodland then finished her career at Clarke. Between 1972 and 1978 Helen completed her degree in English and sociology. She retired in 1985
Helen and her husband were active in Central United Church. They both sang in the choir. Helen was in that choir for over sixty years.
They enjoyed travel. Her husband had been stationed in Belgium for a year troubleshooting for Polysar. Helen spent five weeks there with him. She has been to Australia twice and travelled to China, Japan, Hong Kong and Greece.
Helen is an active member of RWTO. She served as local president and served as provincial president in 1993-4.
Helen has three children. Her older son lives in Vancouver. Her second son has followed in his mother's footsteps. He teaches high school in Oxbridge and is also an artist. Helen's daughter is an accountant with General Motors in St. Catharines.
After thirty four years of teaching and twenty eight of retirement Helen has advice.
"Continue to make the most of every day. Give back. There is great satisfaction in that. Enjoy travel. 'Life is short so every day is a gift. Make the most of it!'"
---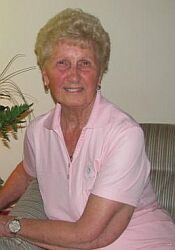 JUNE BANNISTER CELEBRATES NINETY YEARS
June Banister is a life long Sarnia resident. She grew up in Sarnia's south end as one of five children. She attended Confederation Street School, now the Armoury, and Johnston Memorial School.
After spending years at home with her children June commuted with a Sarnia group to teachers' college in London. After a few months of supply work June was hired in January of the next year to teach home economics at Central for a semester before going to Alexander McKenzie. Later she taught at LCCVI in Petrolia. Retirement came after seventeen years of teaching.
June and her husband Bob raised three children, a daughter and two sons. When Bannisters moved to their north end home in 1952, "Woodland" was truly woods from Colbourne to Coral Way. Instead of streets and homes the neighbourhood had sand hills and orchards.
June and one son are "on the cutting edge" for sending solar energy to the grid. Ask June sometime about squirrels and solar panels!
June does have visual impairment and does have suggestions for resources for others in similar circumstances. CNIB sends a represntative from London one day a week to Bayside Mall. CNIB will provide a "DAISY Reader" which holds a dozen books that can be downloaded using WiFi. The Ontario Government covers part of the costs. June also says the Mallroad Library staff is helpful in providing audio books.
When one son and a granddaughter lived in Singapore June made a couple of visits and learned to love the "high rise" city. She travelled around the city on the subway and enjoyed the sights and activities..
June's travels this year have taken her to the west coast to visit two of her children, two of her three grandchildren and her two great grandchildren. After seven weeks in the west she thought winter weather would be over here. We fooled her!
Currently, in addition to knitting, she is making good use of her new touch screen computer and loves her ipad. It is a wonderful tool for keeping in touch with her western relatives.
Happy Birthday from RTO!!
---

CERTIFICATE OF RECOGNITION FOR 90TH BIRTHDAY
Margaret MacDonald was born to a Bruce county farm couple ninety years ago. She has two younger brothers. Her brother Graham MacDonald was a teacher in Petrolia at the beginning of his career. He went on to be a school inspector stationed in Watford and then London. After his retirement from teaching, both he and his wife attended Knox College to became ministers.
They served in the Burk's Falls area and have retired there. Margaret's sister-in-law sends daily devotions by email to Margaret's laptop computer. Margaret's other brother lives in Sarnia and was a research chemist at Imperial oil. He and his wife are helpful to Margaret as she uses her computer.
Besides the use of computers, Margaret commented on all the changes that had occurred in the last ninety years and speculated on what the next innovations will be. As a child she was driven the two and a half miles to school in the mornings. In the afternoons she and other children made their own way home. The children were taken to school in horse drawn sleighs, wagons or buggies. In the afternoons they often found a ride home, too.
"Basically, we were hitch hiking after school," Margaret said. This was the era before school buses.
The farm work at Margaret's home was done by Doll and Floss, two horses. Before sewing machines beautiful clothing was made by hand. Margaret's grandmother knit stockings although her grandchildren did not always appreciate her efforts because other children did not have hand knit stockings. Baking was hard work. A wood fire had to be built. Margaret's grandmother had had to draw water from a spring before she could begin preparations.
Margaret recalls that hydro came to the family farm 1948 and that was great! When hydro was new at the farm the family turned on all the lights in the house and everyone went outside and checked to see how the house looked! No longer did the battery have to be removed from the car to operate the radio in the house. What changes this last ninety years has wrought!
Margaret attended teachers' college in Toronto where she stayed with her aunt. Many Bruce County students attended the teachers' college in Stratford, located across from the present day theatre. Margaret returned to Bruce county and taught in country schools for six years and then was hired in Sarnia. The Sarnia board was expanding its boundaries to take in more schools so more teachers were hired. A new school seemed to open every year. Margaret's career included teaching at Johnson Memorial , Lochiel, Confederation Street (now used by the military) and Hanna. On a tour of the former Lochiel Street School, now a community centre, Margaret was surprised to be offered an elevator ride!
Margaret completed her degree while she was teaching. She would take one course each winter and two every summer. She was a busy lady then and continues to be active.
For many years Margaret sang with the Rainbow Singers. She continues to sing in the St. Andrews choir, she prepares the program for St. Andrews Seniors as well as the worship and mission service for St. Andrews Presbyterian Women, she attends presbytery, and belongs to RTO, RWTO and University Women.
Her advice is "be optimistic" and she recalls a quote from one of the W studies at her church which is "Don't worry. Have Faith."
Best wishes to you as you celebrate this milestone birthday. Also congratulations and thank you to you and your church crew for hosting luncheons and programs twice a month for seniors in our community. Great work!
---
Best Wishes to
Doris Withenshaw
. Doris taught for twelve years. Her husband was also a teacher but he had another career as a minister. They came to Sarnia when he was hired at New Horizons Community Church where Doris is still active. Doris says she was able to use RTO's Good will gift of cards and stamps to send thank you notes for the table full of gifts, cards and flowers she received for her ninetieth birthday. She and her twin sister were feted by family and friends.
---
CERTIFICATE FOR 90TH BIRTHDAY 2010
Marian Douey
grew up in the Watford area and started her teaching career in the country outside Watford. She taught in Fairbanks School near Alvinston for two years and for one year at Henderson School. She remembers the days when married women didn't teach.
She and her husband, who was from Windsor, farmed for a short time before moving to Windsor.
He worked for and was transferred to Sarnia by National Grocers while Marian who had young children did supply work. One year Marian's brother Vic, the principal of Queen Elizabeth, called her to come in the second day of school. A newly hired teacher never arrived and Marian was at Queen Elizabeth until June. Another year she was called in February to cover a class at Johnston and, again, she taught until June. Her final supply call came to teach at Parkview and she stayed twenty two years. Her first principal was Morley McGregor. Another principal was Howard Coleman, who had been Colonel Coleman in the army.
Marian often acts as chauffeur for her older sister and enjoys RWTO luncheons and her church activities. She has a son and two daughters. Marian was feted on her special birthday by her family, friends and fellow church members at Patterson Presbyterian.
---
Julius Szabo

Julius was born in Oradea, Romania but of Hungarian descent. He, his wife Judith (Judy) and their six year old daughter immigrated to Canada in December of 1969. They came via Italy from communist Romania. After waiting five years to leave Romania, Judy's Jewish sounding surname provided them with an opportunity to depart. They chose Canada where Julius had three uncles who were tobacco farmers in Delhi. By February of 1970 Judy and Julius were in English as a Second Language classes.
Although Szabos spoke an number of languages, English was not one of them. By September of that year at the age of forty-two Julius was
attending Western University in London for teacher training.

Fortunately, Julius' education in Romania was recognized by Western so the next year found him teaching in Barry's Bay. After a year back in London working in tobacco Julius returned to teaching. This time he went to Thornhill to teach geography and economics in York District High School. He taught there for about eighteen years while Judy worked as a secretary in the same school for twenty-six years. Julius retired in 1988 but continued to supply teach in Thornhill and later in Exeter.

For twenty-five years Julius worked with the Hungarian community in Toronto by teaching and participating in their travelling theatrical
group. The group performed for many Hungarian communities in many locations including Norway, Sweden, Italy, France, Florida and Vancouver.

Since they had lived in London for a couple of years they knew Grand Bend and loved it. In 1983 they bought a piece of property near the
theatre and eventually built a cute cottage and then a retirement home.

Julius loved to learn and while teaching he earned a masters degree from York University. He also enjoyed sports such as skiing, tennis and boxing. The family often spent Christmas break skiing in Europe. Recently their daughter and her husband moved to Markdale near a ski hill. Both Judy and Julius did cross country skiing behind their home in Aurora. Into his eighties Julian walked six miles a day. At one time, three times a week he would walk the twelve miles of trails in Exeter.
Now television sports especially tennis are favourites, as well as their two and a half acres of mostly beautiful flower gardens. When Szabos married, Julius was a good cook and baker. He taught his young wife and now she is the family cook. One of her wonderful specialties is Hungarian coffee cake made with apples and gooseberries picked by Julius!

The Szabos have two granddaughters.
---
---
The Goodwill Committee will be including a business card inside each birthday card for those turning 80. This card has contact names, telephone numbers and email addresses for all our committee members. These cards will also be available at the No-Bells breakfast, Executive meetings, the General meetings in December and June, or by request.
Please contact a committee member when sending a card would be appropriate for you or another RTO member. (e.g. special anniversary, illness, marriage, hospitalization, thinking of you, death of a family member, special milestone-becoming a first-time grandparent, etc.)
Birthday cards sent to people in their 80's and 90's
Dorothy Acton, Marie Aicken, Melba Alexander, Janet Allen, Janice Baker, June Bannister, Doreen Blake, Helen Cassidy, John Clarke, George Bice, Bill Blake, Al Breakevelt, Ivan Glen Brooks, James Brough, June Chaput, Helen Cassidy, Patricia Charpentier, John Choy, Eval Dalrymple, Bill Danylchuk, Edward Davies, Joanne DeGurse, Nadyne Dell, Ken Dennis, Douglas Dew, Lois Dixon, Eleanor Doolittle, Marion Douey, Joan Downie, Karen Duchene, Mary Edgar, Lorraine Erickson, Adolfo Estoesta, Lloyd Eyer, Barbara Feaver, Caroline Fera, Margaret Fera, Phyllis Ferguson, Betty Fitchett, Ivan Ford, Eleanor Forsyth, Alice Francis, Warner French, Emily Gaborko, Marilyn Garrett, Mary Helen Garvie, David Gilham, Corinne Gill, Alexia Gladdy, Eugene Graham, Jocelyn Griffiths, Jean Haggitt, Tom Hamilton, James Hardy, Frances Harper, Marjorie Harris, Catherine Hefferman, Patrick Heisler, Sherry Hext, Irene Hill, Joan Hinch, Gladys Howarth, Virginia Hunt, John Hunter, Christie Johnston, Vera Johnston, Phyllis Johnston, James Kaempf, Gladys Kells, Joan Kerwin, Glen Kinna, John Knackstedt, Jacqueline Krech, Barbara Lampman, Gladys Lang, Stella Marie Lannon, Ada Laurene, Evelyn Lecky, Nathley Leitch, Germaine Lepage, Bonnie Lester, Jules Levesque, Frances Lewis, Linda Lewis, Joshua Lipszyc, Arthur Lloyd, Thelma Loosemore, Wilma Love, Robert Machan, Joan MacDonald, Margaret MacDonald, Joan MacDonald, Margaret MacDonald, Doris McArthur, Mary Jane McArthur, Bob McCarthy, Shirley McFarlane, Shirley MacMillan, Gene McCaffrey, Ben McCall, Monica McCall, William McCordic, Louise McQueen, James McVicar, Marilyn Maderey, Lois Marley, Joe Matz, Howard Maw, Murray Metcalfe, James Miller, Mary Anne Miller, Fred Milsom, Barb Moore, Patricia Moore, Ronald Morphew, Fred Moss, Marion Mummery, Robert Mummery, Dolores Murray, Helen Mutton, Fred Meyers, Lois O'Harare, Florence Park, Eilene Patterson, Paul Pratt, Arnold Pole, Wilfred Pole, Barbara Porter, Sara Puthuvelil, Vincent Quinn, Denise Raiche, Janet Randall, Eleanor Ritchie, Elsie Robbins, Doris Robinson, James Savage, Donald Sawyer, Elsie Scott, Lawrence Scully, Melvin Seward, Ada Laurene Thomas Shaw, Dorothy Shea, Geraldine Sheppard, Joyce Skuce, Wilf Spivey, Ross Stephenson, John Stewart, Phyllis Sutherland, Marlyn Swan, Julius Szabo, Terry Taylor, Esther Tebbens, Elizabeth Tighe, Shirley Thompson, Sar Townsend, Elizabeth Vanderhoeden, Eleanor Vargo, June Verbeem, Dorothy Vogt, Dorothea Vokes, Audrey Wagner, Emmy Wassenaar, Shirley Wilton, Glenda Welsh, Mary Williamson, Doris Withernshaw, Maria Wolff, Reta Young, Carol Zigmond